Removing Under Eye Wrinkle Hyaluronic Acid Dermal Filler
Fillers made from hyaluronic acid, which is naturally found in the skin, are derm favorites. Wrinkle Filler Hyaluronic Acid aren't the same as neurotoxins like Botox and Dysport. The latter type "freezes" muscles to reduce wrinkles, while Dermal Filler Acid smooth out skin by filling wrinkles. Collagen used to be a common filler, but these days most fillers use hyaluronic acid. Thanks to its ability to store moisture, Removing Wrinkle Filler is responsible for giving skin a plump, hydrated look. It's used topically to moisturize, but a cream or serum can't restore lost volume-only injectable hyaluronic acid can. Once injected it can add to the natural plumping action, or replenish your body's natural production of hyaluronic acid, which diminishes as you age.
What is Hyaluronic Acid (HA)?
Hyaluronic Acid Injection is a naturally occurring substance that is already found in your skin. It helps keep skin plump and hydrated. Injectable Hyaluronic Acid are typically soft and gel-like. The results are temporary, lasting 6 to 12 months or longer before the body gradually and naturally absorbs the particles.
Characterics:
1.BDDE cross-linked hyaluronic acid.
2.Non-animal suorce hyaluronic acid,no risk of allergy reaction.
3.Strong anti-degradation capacity&stability.
4.Low toxicity& rare side effects.
5. Best price and High quality because produced in our own factory.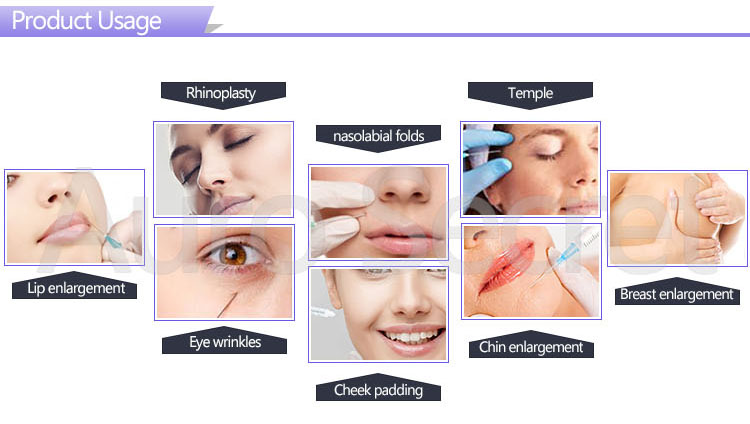 What dermal fillers can do?
· Lip Augmentation
· Enhance shallow contours
· Soften facial creases and wrinkles
· Improve the appearance of recessed scars
· Reconstruct contour deformities in the face
· Decrease or remove the shadow of the lower lids
Sodium Hyaluronate Acid
can be very helpful in those with early signs of aging, or as a value-added part of facial rejuvenation surgery.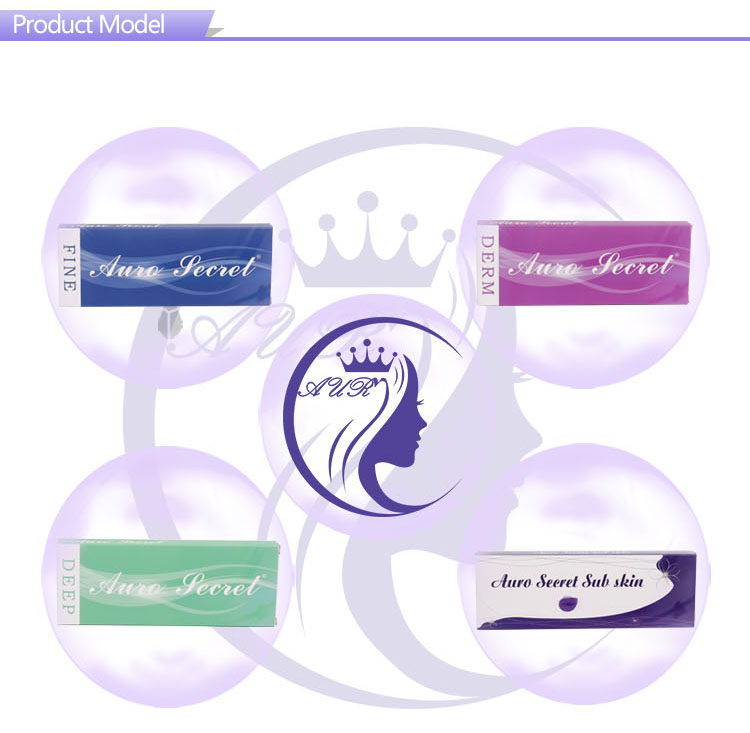 Model
Fine
Derm
Deep
Subskin
Composition

20mg/ml
20mg/ml
20mg/ml
20mg/ml
particle size

0.1~0.15
0.15~0.28
0.28~0.5
1.25~2.0
Where to inject
Upper part of dermis
Middle part of dermis
Deep layer of dermis and/or surface layer of subcuits
Deep dermis or shallower part of subcutaneous tissue
Treatment
Correction of thin lines, across the forehedad and around the eyes and mounth.
Treatment of wrinkles and lip enhancement
Correcting deep folds, creating fuller lips and shaping facial contours, such as cheecks and chin.
Enlargement of breast and buttock augmentation
Needle Size
30G
30G
27G
23G
Volume(ml)
1ml/2ml
1ml/2ml
1ml/2ml
10ml
Duration
12-18 months
12-18 months
14-20 months
14-20 months
Storage and Shelf Life
2-30 ℃ 24 months

Our Company
Auro technology Limited is professional in aesthetic medical technologies. The company sells its products under three distinct series: Auro Thread PDO, Auro Secret Dermal Filler and Blunt Cannulas.
Auro technology enables physicians to provide excellent solutions for a broad range of medical-aesthetic applications including face and body reshaping, resurfacing skin, eliminating fine lines or wrinkes treating scras, or removing unwated hair. We`ve built in the easy of use, versatility, intuitiveness and value that allow physicians to do what they do best.
Every thing we do is only for helping you to purchase the high quality beauty equipment for the health of you and your clients. We believe only in this way can maintain our partnership and keep in win win situation. We always keep challenging to build our products in safe and easy to use, and then to make our customers feel affinity. All of these turn out to be high quality products.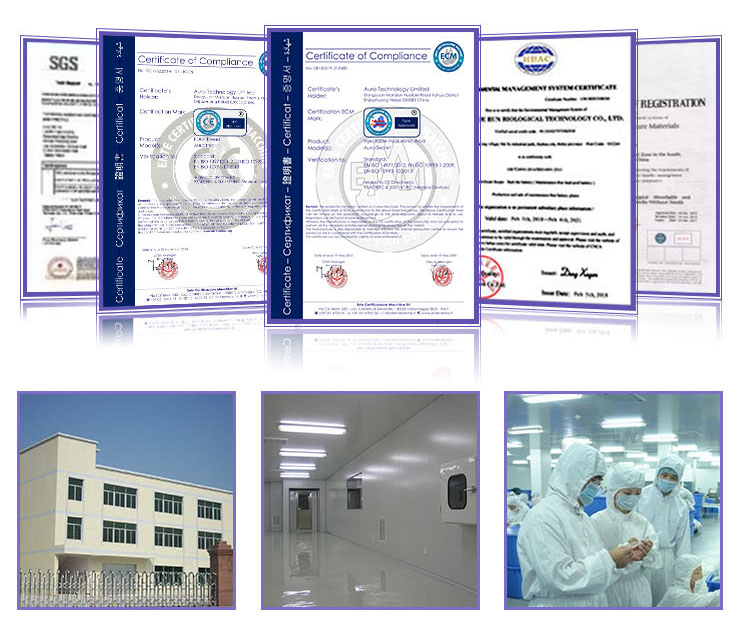 Our Service
1. 7*24 hours online
Your inquiry related to our products or prices will be replied within 24 hours.
2. Short lead time
Well-trained and experienced staffs to answer all your inquires.
3. OEM&ODM
Any your own design lightings we can help you to design and put into product.
4. Small order available
The MOQ just one pieces.